16.2.1.4 Known definitions searches
You can use the Search Files tool to search in all files known to contain definitions. To do this, select Known Definitions in the the dropdown list in the toolbar. Then complete your other search specifications and click the

button.
Figure 16.3 A Known Definitions search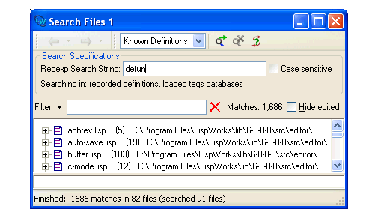 A file is known to contain definitions in one of two ways:
A file was loaded and executed a defining form which was recorded by the source location system. The associated source files are searched when the list value of the variable dspec:*active-finders* contains the keyword :internal .
See "Dspecs: Tools for Handling Definitions" in the LispWorks User Guide and Reference Manual for more information about definition recording and tags databases.
---
LispWorks IDE User Guide (Windows version) - 25 Nov 2011